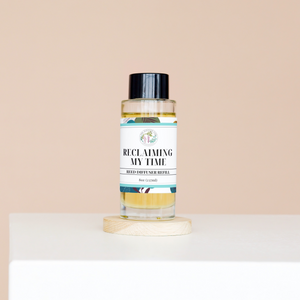 Need to hit the reset button? Take a few minutes for yourself each day and indulge in Reclaiming My Time! Feel the light citrus and linen scent fill up your space, and relax as you take in a breath of fresh air. Let the eco-friendly and phthalate free oils help you unplug and find a moment of joy and relaxation in the middle of your busy life. It's the perfect balm for the soul. Treat yourself to the luxury of your own time, and reclaim what's yours.
Primary Scent Category: Fresh
Scent Type: Citrus/Soft Floral
Notes: Citrus + Ozone + Jasmine + Musk
These refills are the perfect way to replenish an existing reed diffuser or create a unique diffuser accessory of your own. This 8oz jar holds 1.25 refills.