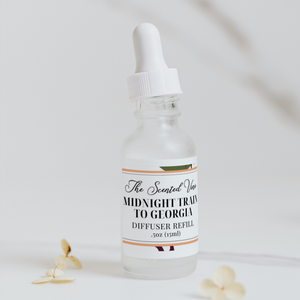 Grab your ticket and prepare to be swept away by the rustic scent of Midnight Train to Georgia. Fragrant layers of juicy peach nectar and earthy musky notes create a unique and alluring aroma. Smells like a journey of a lifetime!
Primary Scent Category: Floral
Scent Type: Fruity/Warm Amber
Notes: Peach Nectar + Coconut + Sandalwood + Vanilla
Don't let your diffuser run dry. Refill your hanging oil diffuser with these compact glass bottles. These refills are compact and ready to travel with you. 
Pro Tip: Buy multiple scents, mix them to create new scents!