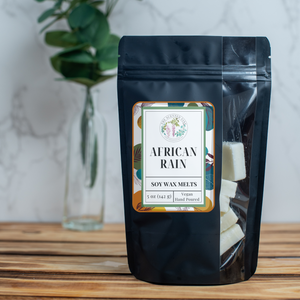 Get lost in an African paradise with African Rain. This eco-friend scent uses phthalate free fragrance oils to take your senses on a lush, tropical journey of green landscapes and beautiful rain-washed air. Experience an atmosphere of tranquil refreshment while you explore a cozy world of natural pleasure.
Primary Scent Category: Fresh
Scent Type: Green/Fruity
Notes: Green Floral + Coconut + Green Leaves + Wood
All of the flameless fragrance you love now in a resealable pouch! Our 5oz individual wax cubes are great for those "no fire" zones. Comes in a 5oz matte black pouch with a "peek-a-boo" window. The more cubes you use, the stronger your scent will be. We recommend using these with our 2-in-1 candle and wax warmers!