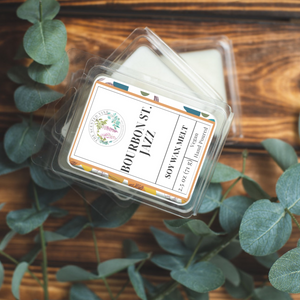 Make a night on Bourbon Street in N'awlins come alive with Bourbon St. Jazz! This sweet and boozy scent will have you feeling like you stepped right into the heart of the vibrant French Quarter. Get ready to experience the jazzy energy of the beautiful, Crescent city.
Primary Scent Category: Amber
Scent Type: Sweet/Gourmand
Notes: Apple + Bourbon  + Maple + Vanilla
These are the perfect addition to your "no fire" area. Whether you're choosing wax melts as an alternative to candles or in addition to them, these flameless fragrances were created with you in mind. 
Wax melts are great for office buildings, dorm rooms, homes with small children and pets, and anywhere else you can think of in need of a scent booster. 
Each cube lasts for several weeks. 
Pro-hint: Mix several scented cubes to create your own fragrance combo! Use more cubes for larger spaces.
Domestically Grown, Organic Soy Wax
Phthalate Free Fragrance Oils
Vegan