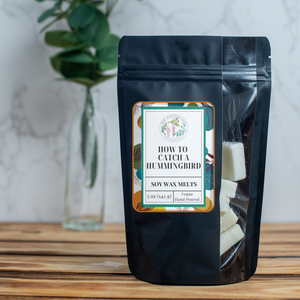 You won't need a hummingbird net to capture this sweet yet earthy scent. Crafted with phthalate free fragrance oils, this eco-friendly scent is the perfect choice for your home or office. Not to mention the unique aromas will leave you humming with joy!
Primary Scent Category: Fresh
Scent Type: Green/Aromatic
Notes: Pineapple + Green Leaves + Sage
All of the flameless fragrance you love now in a resealable pouch! Our 5oz individual wax cubes are great for those "no fire" zones. Comes in a 5oz matte black pouch with a "peek-a-boo" window. The more cubes you use, the stronger your scent will be. We recommend using these with our 2-in-1 candle and wax warmers!