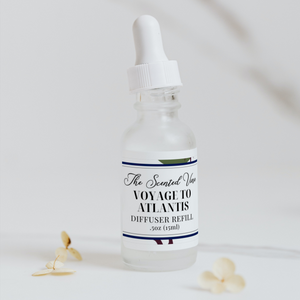 Take your nose on an adventurous voyage with this sea-worthy scent! Voyage to Atlantis has a surprisingly seductive aroma, blending salty waves and dark musk. Crafted with phthalate free fragrance oils, this eco-friendly scent will make your home feel like a ship full of love, ready to set sail.
Primary Scent Category: Fresh
Scent Type: Water/Amber
Notes: Ozone +Plum + Sea Salt + Dark Musk
Don't let your diffuser run dry. Refill your hanging oil diffuser with these compact glass bottles. These refills are compact and ready to travel with you. 
Pro Tip: Buy multiple scents, mix them to create new scents!